Star Wars fans, you may be getting the ballistic armor of your dreams. AR500 Armor announced recently that it is collaborating with several other industry leaders and artist Ryan B. Flowers in designing Mandalorian-themed ballistic armor. The first pictures of what may be a prototype of the new armor were released on social media earlier this week.
"GalacTac Project. A special project that we have been working on with other industry leaders," AR500 Armor, a body armor manufacturer, wrote on its Facebook. "We hope to see everyone at SHOT 2016 Booth #6605!"
Not engrossed enough in the Star Wars lore to know what a Mandalorian is? Although playing only a peripheral part in the films, the Mandalorians are a fictional culture of nomadic warriors that have enjoyed great popularity in the franchise's Expanded Universe, now known as Star Wars Legends. The most famous Mandalorian in the series is the bounty hunter Boba Fett, who despite his minor role in the films was popular enough to inspire later writers to expand upon his history and the history of his people. As a warrior culture, the Mandalorians fought for both the Sith and the Jedi throughout their history, and were known for their distinctive body armor.
For reference, this is a cosplayer's version of Boba Fett's armor.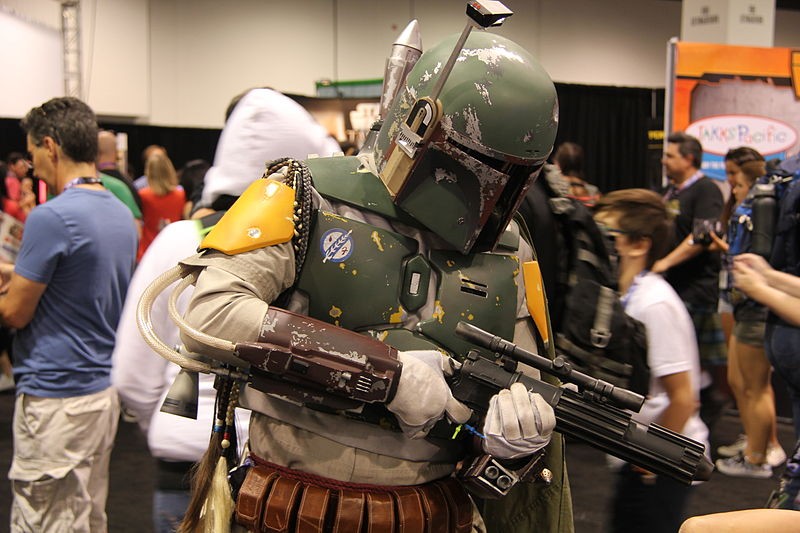 Heckler & Koch, TEA Headsets, Sog Knives & Tools, Armasight, SureFire, Wilcox Industries Corp, and Team Wendy were also part of the GalacTac Project. The suit itself was designed and built by Flowers, who has long been popular in airsoft circles for his custom Mandalorian armor. Unlike his typical build for airsoft players however, this suit of armor comes complete with custom AR500 ballistic plates and is outfitted with an overabundance of gear from companies attached on the project. There is no word yet on if the armor would ever be sold or would remain as a one-off piece. Flowers does sell the airsoft version of his Mandalorian armor at around $325 on his 
website
. It is not known what materials the armor is made out of, but each set includes the helmet with the iconic T-shaped visor, chest and shoulder armor, gauntlets, and a cod piece.
What do you think? Would you shell out some of your hard-earned money to buy this armor? Or is it simply too impractical to be worth it?
Source: OutdooorHub